September 29 – October 1, 2017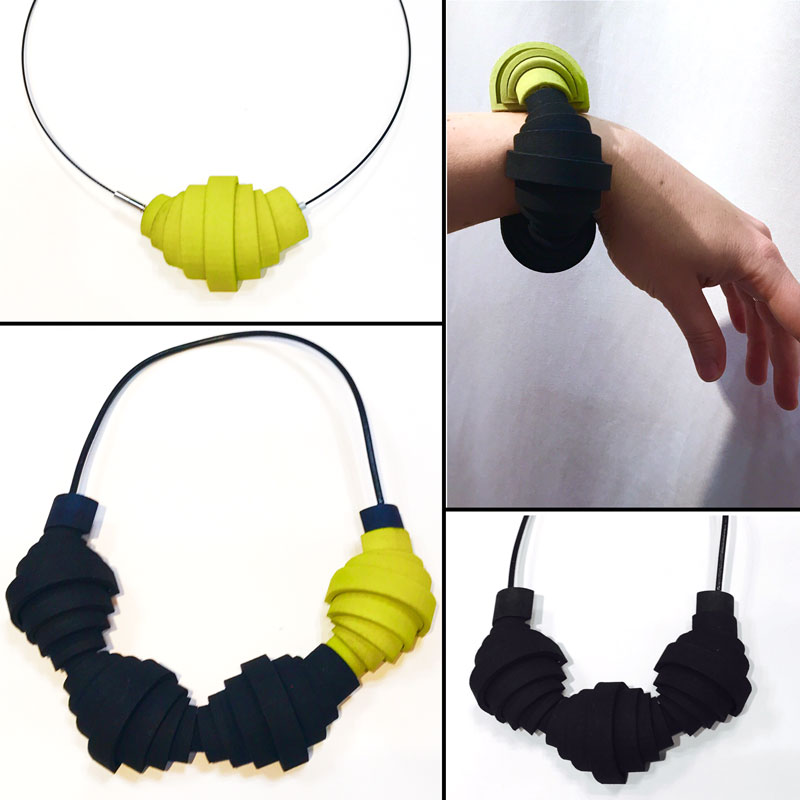 Art.Science.Gallery.'s monthly artist pop-up features artist and designer Melissa Borrell, who is introducing 'Fusion', her new line of 3D printed jewelry! Melissa has been an artist in our gift shop for many years, and we're really excited to be hosting a show of her newest line of jewelry.
Artist Reception  Friday, September 29th from 6-9pm. Meet the artist Melissa Borrell and enjoy light refreshments.
Pop-Up Hours   Saturday & Sunday September 30-October 1st  from 12-4pm. This is also the last weekend to see the gallery's The Birds exhibit, inspired by the science of birds.
ABOUT FUSION: 3D PRINTED JEWELRY
Utilizing modern technology, Borrell has created lightweight, unique and bold designs. This innovative jewelry collection take​s​ advantage of the unique properties modern additive fabrication techniques. The designs appeal to design-oriented, art-loving individuals with an appreciation for the unexpected. Using technology in the same way a painter might use a paintbrush Melissa creates new and surprising designs that push the boundaries of what is possible. Her back- ground and experience in handmade metal jewelry informs the designs and contributes to the success of the pieces. Each element is carefully considered down to the claps and earring hooks so that the resulting pieces are not only sculpturally successful but also comfortable and flattering to wear.
The new line contains necklaces, earrings, rings, bracelets and pendants. Notably, several pieces are kinetic. This shape-shifting group includes a pendant that can be worn two ways, bracelets that double as pendants and necklaces that can be worn multiple ways depending on your mood.  Drawing from her unique sculptural aesthetic the pieces break the mold of what you expect jewelry to be.
ABOUT MELISSA BORRELL
Blurring the lines between art and functional design, Austin-based Melissa Borrell Design creates jewelry, home accessories and sculptures that integrate bold graphic elements with fluid organic shapes. Inspired by technology and architectural forms, Melissa's work is sophisticated yet playful. From her origins in jewelry design Melissa's practice has evolved to include sculpture and installations that explore many of the same concepts that are evident in her sculptural jewelry work.  She creates sculptures and installations that integrate light, shadow and movement into space-transforming artworks.  Melissa's body of work continues to evolve incorporating new concepts and technologies into her art.
A native Texan, Melissa has lived in many cities around the globe. With a background in jewelry design she worked as a studio artist in San Francisco for several years before moving to Providence for graduate school. She received an MFA from Rhode Island School of Design in 2005 and moved back to Texas in 2006.
Melissa has been making, crafting and innovating for as long as she can remember.  When she's not in her studio, you might find her cooling off in a swimming hole, rolling out a pie crust in her kitchen, or gazing up at the trees in the park dreaming up her next creation. A portion of the profits from Melissa Borrell Design supports young girls' education in science, technology, engineering, art and mathematics.
ABOUT THIS EVENT
Art.Science.Gallery. is excited to announce our new monthly artist pop-up. Held the last full weekend of each month, each event features one of our favorite science-inspired artists! Meet the artist at the Friday night opening reception, and enjoy complimentary refreshments throughout the weekend while you shop. We think it's a great way to support local artists and galleries. You can also check out our current art show and gift shop!